We at Will O'Wisp breed very limitedly. We may go a few years between breedings - sometimes more. This is our second litter in about two years. At this point, three of the pups may/will be staying with Will O'Wisp. Cynthia, Beth and Karen each have their eyes on the pups. Those not kept will be available to carefully chosen homes. Cynthia is headed to Michigan in early December to evaluate the litter and make her choice after Beth makes hers. Karen is, as of now, taking the Color Headed White puppy. She is looking good and will go into UKC conformation if she lives up to her promise.
On October 10, Claire had her litter. There are seven pups, five girls and two boys. All are blue (three girls and one boy) and tris (two girls and one boy), they may or may not be bifactored and most appear to be white factored. The pups were sired by Am/Can Dury Voe Wintergreen, and whelped in MI.
THIS SAME INFORMATION IS ON THE GROWING UP PAGE
Click here to see their pedigree.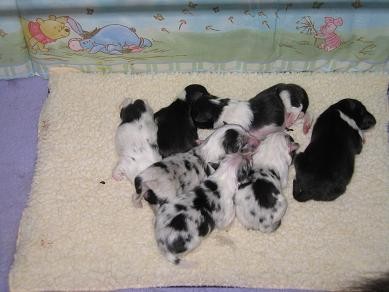 Pups at two days old.
We are not sure at this time what puppies will be available until they are older. Some will be staying with Will O'Wisp.
The pups are now five weeks old. These pictures were taken at about four weeks old. They are wiggly and Beth's hubby did his best to hold them.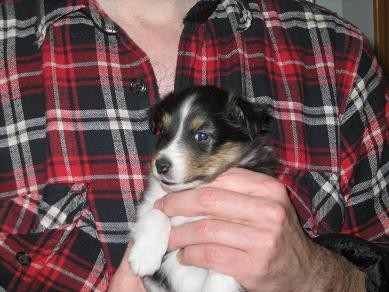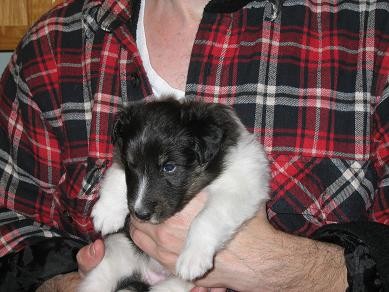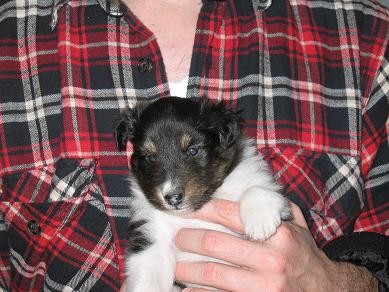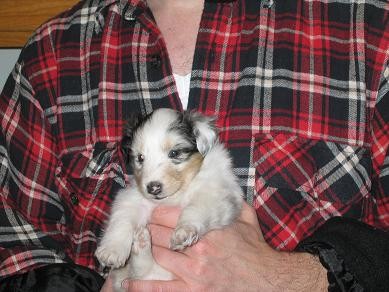 CHW girl - above - going to Karen in Va