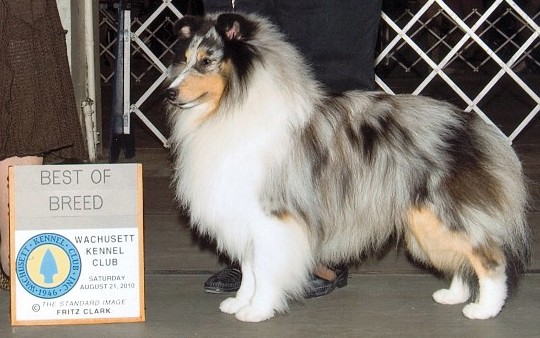 AKC Grand Ch Will O'Wisp Winter Frost, CGC "Jack"
Jack achieved his Grand Champion at the Western Ma SSC on May 11, 2013 under judge Jean Simmons. He was handled by Sue St. Loius, a family friend
Karen has written her first book about determining if you are ready for a dog from the perspective of a dog trainer. Please click title for more information about Am I Ready for A(nother) Puppy or Dog? Available in paperback and for Kindle. Please click here for information.
Karen is writing for local Northern, VA Newspaper Prince William Today (used to be Inside NoVA)
In October of 2010, Connor Peak was on Animal Planet's Dogs 101 - the Shetland Sheepdog Episode. Go to the Videos Page!
We are members of various clubs including: American Shetland Sheepdog Association, United Shetland Sheepdog Association, Shetland Sheepdog Club of Greater Detroit, Blue Ridge Shetland Sheepdog Club, Granite State Shetland Sheepdog Club.
Please read our "Find a breeder" site disclaimer.
Recent Announcements
NOTE - not all wins and other newsie things are listed - I am not always updated by other family members and I know I am missing various herding events. Beth has been doing a lot of herding work with her Tervs.
2013
May 18 - Phantom took Winner's Dog for his first major win at Mattaponi KC in Manassas, VA
May 11 - Jack is now a Grand Champion with a Best Opposite Sex win at the Western MA SSC specialty show. Sarah took best Junior at Old State Line United KC - Bel Air, MD shwos 1 and 2 with Foster and Best Female shows 1 and 2 with Splash. Ravyn got Reserve female from the Champions class show 2.
Feb 17 - Sarah took Best Junior Handler with Foster at the Valley Forge KC match in PA. She did this from the non-regular, under 9 class.
Feb 9 - CVSSC specialty, Jack went Select Dog for another Gr Ch win (AKC).
Jan 12 - Phantom (River!Run StarBright Edinburgh), Belgian Tervuren, was WD, BOW, BOB, over a special, for 2 points at the Greater Fredericksburg Kennel Club shows on 1/12/13. He is now up to 6 points,
2012
June 16 - Jack took select dog at the GSSSC evening trial.
June 9/10 - Scout, CH StarBright Rocketeer HSAs, qualified in herding started both trials in Berryville, VA Chesapeake Cardigan Welsh Corgi Club's herding trials
Connor, Karen's Son who is Hyperlexic (Autism Spectrum) finished the 2011 show year in the top 30 United Kennel Club Junior Handling program.
As of April, 2012, Jack, CH Will O'Wisp Winter Frost, CGC, is ranked #2 in NH and tied for #3 in VA for 2012 Grand CH points. For lifetime Gr CH points, he is #4 in NH and tied for #10 in VA. He's only been shown as a special a handful of times. Jack is co-owned and co-bred by Beth and Cynthia
Feb 12 - Jack took Best Opposite at the Blue Ridge SSC specialty show
Jan 21 - Phantom took Winner's Dog in West Friendship, MD for two points.
*** Please note, the internet is a scary place for puppies and easily abusable by less than ethical breeders and websites promoting online puppy sales for profit, brokers, etc. We have been getting various requests to link our site to "find a puppy" services. Once you have a website, anyone can troll about and link to it - even without permission. Often, our URL has been been posted before we are contacted for permission - which is neve r given. Will O'Wisp does not support these sites nor do we feel they are in the best interests of puppies and potential owners. Therefore, we make every attempt to have our URL removed from such listings when we learn we have been listed. If you got to our site through one of these websites, please let us know what one so we can request removal. ***